Book Summary
Dischafer follows a recluse who drifts into a town, holding a death wish to get into a military facility, a silo on a hill. He believes that the silo holds the key to all his answers, and the one person in the world who could convince him otherwise is no more. Set in an alternate reality, Dischafer is a noir tale of a man who got nothing to lose but what is left of his soul.
Description
This revolution edition of Dischafer from Karthikeyan KC is a soulful revision of the first edition published in 2015. After five years since the original release, Dischafer is now back again with a revision that retains everything readers enjoyed in the first edition. If you are into first-person narratives, science fiction, drama, or noir, go for it!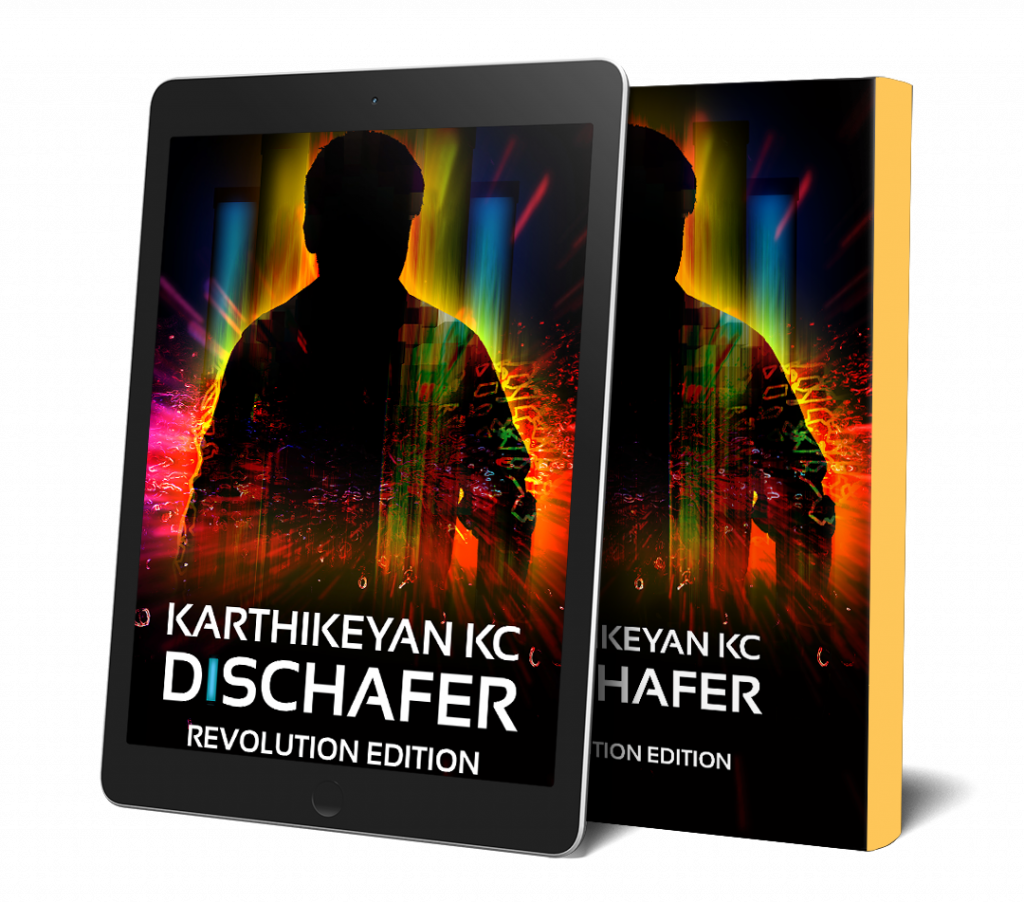 500 INR
Kindle | Google Play | Gumroad | Paperback
More

For ebooks, if you use the Razorpay button above, you'll get a personalised copy of the book with a personal note from me. 🙂 Also, I don't have to deal with Amazon as they take 65% of the price! If your choice is the ebook, I recommend that you buy using the 'Order Ebook' button.


If you cannot afford to buy the book, send me an email to [email protected], I'll send you a free copy. I'll try my best to address all free requests.

If you are facing issues while paying, do let me know. If you just wanna say hi, you can find me online here.
Reviews
Santhosh
🟊🟊🟊🟊🟊

Karthikeyan has done a great job writing an authentic, emotional, and yet entertaining novel. His excellent choice of words communicated the essence of the story. The book takes you on a rollercoaster ride filled with interesting characters, brotherly-love, action, drama, science fiction, and exotic locations. The ending was more than I could have ever anticipated. Overall, a good book that is engaging and well written with many inspirational lines that resonates with you.
- On Goodreads and Google Play.
Vidya
🟊🟊🟊🟊🟊

A wholesome, heartwarming, healing tale of the journey of a man from wretched loneliness to building up a loving community for himself. He has the power to sow unimaginable pain and suffering—like most of us do, and enough reason to do it—like some of us do. And yet, the choices he makes will make you rethink your agency, address whatever it is you're battling within yourself, and—more than anything—remind you of that which makes you walk back from a ledge, stay put, and fight.

This lucidly crafted edition will reward you with vivid, action-filled scenes playing in your head, strong and lively characters living in your heart, and brilliant wordplay to savour and to keep coming back to. It is a book that keeps on giving—be it comradery, hope, goodness, or humaneness you are looking for.
- On Goodreads and Google Play.
Krishnaraj
🟊🟊🟊🟊🟊

I got Dischafer as a recommendation from a friend. I am shelving this as one of the best reads this year.

Dischafer starts with a reporter with an ambiguous agenda. It slowly develops into a thrilling package as pages turn. I loved the dark and gritty narrative tone and how it laid out the world. It is hard to believe this is a debut novel. This is well executed.

I recommend this book to everyone who loves dark thrillers.
- On Goodreads.